11/28/2014: Hope everyone had a great Thanksgiving. If you have 40 meter capabilities, check out the antenna testing and the DX this winter at 7.155 MHz. They are also selling these really cool focus light up stylus pens as a fund rasier which are perfect for your shack and working on equipment.
10/27/2014: For your viewing pleasure we have the Hawaiian Volcano Observatory Webcams, live. They look like they snap a shot every half hour, or so, and have been around for quite some time. Take a peek at this URL: http://hvo.wr.usgs.gov/cams/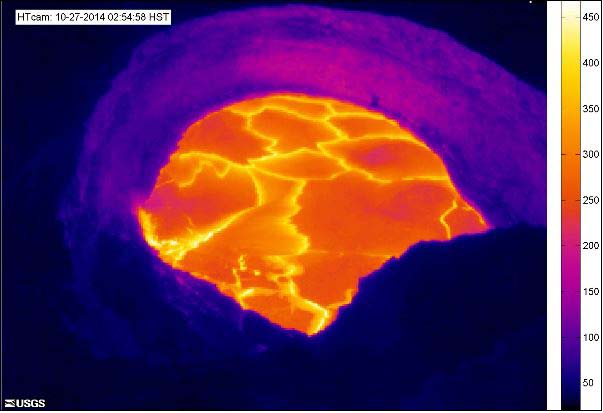 Here is a screen capture and is clickable to this live cam site. This is the Halemaʻumaʻu Overlook Vent Cam. This photo was taken exactly at 2014-10-27 02:54:58 (HST). These webcams are operational 24/7 and faithfully record the dark of night if there are no sources of incandescence or other lights. Thermal webcams record heat rather than light and get better views through volcanic gas.
I hope that everyone in the path remains in safety. Just a note of trivia: The flows have added approximately 500 acres in recent years!
8/24/2014: News was discussed regarding last nights Napa Valley 6.1 earthquake. John, AG6LJ, filled us in with the reports from various monitoring stations. Here is a link to earthquake information: earthquake.usgs.gov/monitoring - and a good 7 minute video.
8/15/2014: Congratulations to Javier, KG7ELE, who is the very first addition to the OhanaNet Online List via email. Welcome aboard! As you know, the Internet is a whole different animal compare to hard copy. It can be changed, modified, added to and then seen online in almost a moments notice. Well, sometimes it might take a few days, but who's counting. Take care and glad you are here. 73!
8/8/2014: Here is a WebCam from Hawaii. It is one of the few webcams that keep up their live stream (as opposed to the ones that have a still image taken either once a day or once a month). Here from the NorthWest side of the Big Island is the Live Hilton Waikoloa WebCam: Click Here ---- and from the south side of Kauai is their WebCam: Click Here
8-06-2014, Wednesday: Tuning in today I found, to my dismay, that tropical storms were threatening our guys over in the Hawaiian Islands. Videos show folks over there "storming" the shelves of Sam Club and other stockers of staples. Wayne, WH6OR, did tell us that the storms are losing steam at the rate of about 1 MPH each hour, so the good news is that they will not be of Hurricane Status, but they quite possibly can cause some amount of mischief. Let's keep our fingers crossed. For today, the signals up and down the states in the mainland were iffy and weak, but the signals from the islands stateside were very good. Into San Diego WH6OR came in about a plus 5, while George, W9EVT was drifting up and down from a 4-4 to a 5-5. Now, for the recent storm video:
---
Notes:
If you have information you would like to share to help fill in the blanks above, add three lines of news to this log, or add your own station to the listing, please email aloha2ohana@zebrahamradio.com and allow 10 days for your information to be absorbed, reviewed for content and posted.

If you like, tune into my blog that is updated from time to time
---

Odds & Ends:
Every once in a while I see some pretty nice quotes, so I'll start by putting this one here from K7GDM, Dave:
"If you make people think they are thinking, they will love you. If you make people think, they will hate you."
If you have a favorite quote, send it in to aloha2ohana@zebrahamradio.com